Each year my role feels the same, but when I look back to the types of tactics I was using last year, it's changed so gradually that when I look at what I'm using this year, it's similar, and yet very different from before.
Here are the variations that I'm seeing in the Facebook Advertising that I'm doing this year:
Using Viral Content as a Page Likes Campaign
A good way to test new blog posts and content is to use the boosting posts feature. It enables advertisers to run tests efficiently so we can decipher the clear winners. Those winning content pieces are the ones that we use on a continuous basis to attract cold traffic into a sales funnel.
The additional secret that I use for these content ads in the long term is inviting people who like the page post to like the business page. It generates clicks more inexpensively than a page likes campaign and does so much more than just attract likes to the page. This has made a big impact on the volume of page fans for my clients in 2016.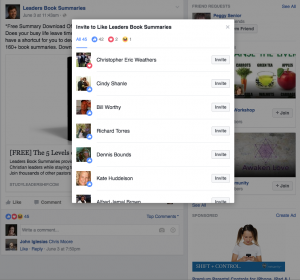 Letting Facebook Do the Optimizing
I've run multiple tests comparing the results of interest-based ads versus lookalike audiences, and the latter is often the winner. Interest based campaigns are a great way to get started when you have nothing to work with in terms of an audience, but I quickly build up assets so I can create lookalike audiences so Facebook can create a profile of who I'm targeting. Once they can get an idea of who that is, I let Facebook do the heavy lifting and let them optimize the campaigns with whom to serve the ads to.
If you're just starting out and don't know much about lookalike audiences, you can create them based on a few different groups including:
• Your customer list
• Your newsletter list
• Business page fans
• Website visitors
• Website visitors to specific pages/topics on your website
Breaking Down Website Visitors
Not all website visitors are equal. It's important to starting breaking down the pages that they're on so you can create custom audiences out of specific topics on your website, or specific pages on your site depending on where they are in your sales funnel.
Some of my clients have multiple customer profiles, so we start using a URL strategy to always put a target keyword in the slug so that I can pull all of the pages on the site with that keyword. Then I have a custom audience built for that specific target audience from their website visitors. This is effective when you have thousands of website visitors.
Note: you can also create custom audiences out of the people who have watched your video. If you have a lot of video views, you can break it down into how long they've watched your video as well. The longer they've watched your videos, the more likely they are to make a purchase from your business.
Facebook Pixel
This year I've been transitioning my clients over to the new Facebook Pixel because the old one will be phased out by the end of 2016. I've been finding that the use of Google Tag Manager as a great way to integrate the Facebook Pixel and its events into a website. It is much more flexible than working within Word Press and other platforms.
Lead Generation Ads
I've also been using Facebook's new lead generation ads as a way to test out different lead magnets. Lead generation ads enable the Facebook user to stay on the platform to provide their contact information and sign up for offers like eBooks, checklists, etc. It's fast and it can be integrated with email platforms like Mail Chimp, InfusionSoft, Aweber, Active Campaign, etc.
Graphic Design
I've also noticed a lot of people starting to use Canva to create more captivating visuals for their Facebook posts. For the Facebook ads, I've been using the free shutterstock images provided by Facebook to test out lots of different images and then working with the ones that perform the best to refine and optimize the ads.
For specific details on how we can help you with your social media marketing strategy, contact us for a free consultation.