What's trending on Facebook? And what does that have to do with your business? It's Facebook Messenger, and if you're not using it yet, your business is behind the 8-ball.
Here are four reasons why Facebook Messenger needs to be in your toolkit for 2017:
Response Rate = Pulse of Your Business
Your messenger response rate shows that your business has a pulse. On your business Facebook page, the visitors can see how responsive you are. Here are some examples of what could be shown just below your header image:
Very responsive to messages
100% response rate, day or more to respond
Very responsive to messages. 100% response rate, 3-mins response time
If you were looking at a business Facebook page, which one would give you the most comfort in knowing that you'll hear back from them? When people are checking out your business on Facebook, they're looking for information like your business hours, and if they see a weak response rate, this will lower your credibility.
Marketing Channel That People Actually Engage With
Marketers are always seeking new channels to utilize in order to communicate with their potential customers. Up until now, email marketing has been the most prevalent tool used by companies to maintain a relationship and stay top of mind for their customers. Facebook Messenger has created a new marketing channel to communicate with your customers because you can send a message blast out to all of the people who have messaged your business page using inexpensive software. The open rates for these messages are crushing it compared to email marketing. It's an important channel to consider if you want people to see your product/service updates.
Facebook Ad Type to Promote Engagement with Sales Team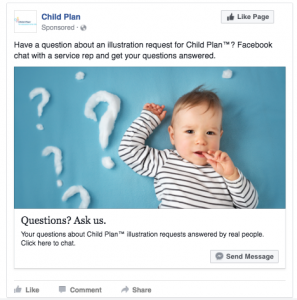 Facebook Messenger ads are a new ad format that have created a new way to engage with people who have already been exposed to your company through a website visit or viewing a recent traditional static image ad or video ad on Facebook. A Messenger ad can be delivered to these potential clients with a "Send a Message" call-to-action button that will deliver people directly to the Messenger tool to create a message that will be delivered to your business page. Companies who are on trend are setting up Facebook Business Manager and adding their sales team to the business page so they can respond to these inquiries right away. Engaging the sales team with warm leads via Facebook is another sales tool to connect your potential customers with people who can help them move through the cycle into business sales.
Sales Team Efficiency & Automation
Once you have a designated person or team dedicated to responding to Facebook Messenger inquiries, the next step is finding a software tool to assist them when there is a high volume of inquiries. There are software options that will assist your sales team as follows:
Create an automatic response to inquiries with multiple options to guide the customer to potential solutions to their inquiry. Examples include: learn more about product x, contact support, watch a demo video, get my invitation, start the class, etc.
Segment your Messenger inquiries so you can group people into categories such as: support, sales, blog, etc.
Create a customized response to inquiries that have specific keywords or questions. You can even suggest potential questions that they might have to stimulate the conversation.
The bot/software can have a personality of its own that makes your business look savvy and hip. The bot's automatic response can be written in a fun and conversational way like: "Hey, this is Amy's Bot. She will respond to you within a few hours. In the meantime, is there anything I can help you with?" The bot can then give a few links to potential website pages that people are typically looking for along with product suggestions. The options could include: Get Support, Visit Our Blog, View our Products, etc. The software will also enable you to autofill the customer's name inside the responses to help personalize the experience.
Overall, using tools like Messenger, the intent is to connect your potential customers to your team. Business is a human experience, and Messenger can help expedite the sales process to make the human to human connection. It's not designed to replace it. It's designed to compliment it and make an introduction in a casual way that is easy for the customer. Messenger enables your business to use a tool that people are already using each day by eliminating barriers of sluggish email responses and turning their interactions with you to a 'wow' experience.