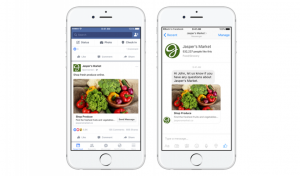 Looking for something new to try for your Facebook ad campaigns? Try Facebook Messenger ads.
The most popular way to use messenger is in your call-to-action. The ad is still set-up exactly the same way as typical ads, but the destination is different. Instead of going to your website, they move right into Facebook Messenger with a new message initiated that will be sent to your business page once they have submitted it.
This can be used for a variety of businesses including local businesses. In the ad copy, it's important to stimulate the conversation by asking specific questions in the ads that people would typically ask your sales team. Or perhaps conversation starter types of questions can work too. Here are some examples:
What type of home improvement project do you want to start this year?
What are you struggling with to prepare for your tax return?
If you could improve one thing in your business, what would it be?
What is one thing you're looking for in a life coach?
Once you've set-up your ads, it's important to designate one person to be responsible for responding to the ads. They should be able to respond to the incoming questions within 24 hours at the most. Ideally immediately or within the hour is best though.
This ad type is also a good fit for remarketing to people who have already seen one of your blog posts or videos. It's a creative way to stimulate the conversation with someone who is a stronger prospect, rather than someone who has never engaged with your brand before.
If you have any questions about Facebook Messenger ads, or more advanced uses for placing messages directly into Messenger for people who have "messaged" your Facebook business page before, please contact us. This is a strategy that may require third party software to be more efficient with your marketing budget.